Why Choose Amana?
Amana's long list of appliance milestones includes the first upright freezer, the first side-by-side refrigerator and the first bottom-freezer refrigerator. The company's latest washers and dryers are just as innovative. Whether you are looking for a washer capable of handling the largest loads or a dryer that won't leave your clothes wrinkled, Amana has an affordable and durable product that will meet your needs. Amana is now part of the Whirlpool group of brands, so you can be sure that any appliance bearing its logo was made in America by skilled workers in one of the most advanced factories in the world.
History
Amana's history is one of America's great success stories, and like most such stories, it features a visionary entrepreneur who was undaunted by difficult economic times and untroubled by doubt. The company was founded during the Great Depression when most manufacturers were closing factories and laying off workers, and it went on to revolutionize an entire industry. Let's take a look at this remarkable company's history and the man who may have done more than anybody else to bring the American kitchen into the modern age.
Founding and Milestones
The company that became Amana was originally called The Electrical Equipment Co., and it was founded in 1934 by a man named George Foerstner to manufacture walk-in beverage coolers for the hospitality industry. Foerstner developed a taste for business as a teenager while selling automobile accessories for his father's company, and he decided to make beverage coolers after an Iowa City businessman dared him to try.
Foerstner lived in an area of Eastern Iowa known as the Amana Colonies. This was a group of seven villages that remained almost completely self-sufficient for nearly a century, and each village was home to dozens of artisans and craftsmen who could make virtually anything from locally sourced materials. The Electrical Equipment Co. flourished partly because its workers had grown up figuring out problems and overcoming adversity, so few were surprised when the company became part of the Amana Society and changed its name to Amana Refrigeration.
During the 1930s, Amana Refrigeration focused on making walk-in coolers for restaurants, bars and catering establishments, but everything changed in 1941 when the United States entered World War II. The company continued to make beverage coolers, but it now made them for the government. Officials were impressed by the coolers and Amana's ability to deliver them quickly, and the company's efforts were rewarded with the Army-Navy "E" Award for Excellence in Manufacturing. More than 85,000 companies took part in the war effort, but only about 5% of them received Army-Navy "E" Awards.
The years following World War II were an era of consumer exuberance in the United States, which prompted Amana to switch its focus from the commercial to the residential market. This switch marked the beginning of the company's golden age of breakthroughs and industry firsts. Between 1947 and 1967, the company introduced:
The first upright residential freezer
The first side-by-side refrigerator
The first bottom-freezer refrigerator
Self-defrosting technology
The first countertop microwave oven
Amana didn't just revolutionize the way Americans stored and cooked food; it also changed the way they washed and dried clothes. The company introduced the first electric dryer with a stainless steel drum in 1992, and it was the first manufacturer to offer top-loading washers with antimicrobial component protection. In 2011, Amana scored another industry first when it unveiled a new suspension system that allowed front-loading washer and dryer sets to be installed on upper floors.
Amana was purchased by Goodman Global in 1997 and Maytag in 2002, but the company is now owned by the Whirlpool Corporation. That is good news because Whirlpool is known for quality and committed to keeping its manufacturing base in the United States. Amana appliances are still made in Iowa, but the factory's assembly lines now also make products bearing the KitchenAid, JennAir, Whirlpool and Maytag logos.
Production and Manufacturing
Amana washers and dryers are marvels of modern technology, and they are made in some of the world's most advanced appliance factories. All of the company's products are rich in features that were designed to make life easier, and its washers and dryers take convenience to a new level. They have been engineered to save time and protect clothes, and they often do a better job than appliances with far higher price tags.
Products
Some appliance manufacturers confuse consumers with dozens of models that look alike and have similar features, but Amana takes a different approach. The company's latest washer and dryer lineup includes only a handful of models, but each of them is loaded with features and affordably priced. If you are interested in Amana washers and dryers, all you have to do is choose between appliances that are loaded from the top or front. The company makes only one washer and two dryers of each type, and the only reason there are two top-loading and two front-loading dryers is because consumers can choose either gas or electric power.
The line of Amana washers and dryers may be small, but most people will be able to find a model that meets their needs. Consumers who are concerned about energy consumption can choose a high-efficiency front-loading washer that uses far less water but gets clothes just as clean, and large families that do a lot of laundry can select a top-load washer with a large capacity, durable porcelain tub and deep water wash feature.
Many appliance manufacturers offer stripped-down models that very few people buy to keep their starting prices low, but Amana includes all of its best technology in every appliance it makes. Here are just a few of the advanced features you can expect to find in the company's washers and dryers:
Dual action agitator: Top-load washers use agitators to remove dirt and stains from clothing, but these simple devices can be tough on delicate garments and do not always thoroughly clean items at the bottom of the tub. Amana tackles this problem with an agitator made out of two pieces that move independently. This innovative agitator moves laundry gently around the tub to provide more thorough and even cleaning.
Porcelain tub: Plastic laundry tubs can stain and retain odors, and stainless steel tubs can be difficult to keep clean. Amana fits its top-loading washer with a porcelain laundry tub that offers the benefits of plastic and stainless steel without their drawbacks. Porcelain is extremely durable, resists high temperatures and is easy to clean. It also looks great.
Automatic dispensers: You won't have to watch your washer to make sure that you add fabric softener during the rinse cycle because Amana washers do this automatically.
Flexible wash cycles: Not every load of laundry requires the same level of cleaning power. Amana adds flexibility to laundry day with a quick wash cycle for lightly soiled clothes and an extra rinse option for heavy loads.
Sensor drying: Amana's gas and electric dryers have sensors that measure internal temperatures and moisture levels. When the sensors determine that clothes are dry, they shut the dryer down to protect clothes and prevent overdrying.
Temperature controls: Many electric and gas dryers have a single drying temperature, but Amana offers consumers four temperature settings so that they can choose the right drying environment for any garment.
If this look at Amana washers and dryers has piqued your interest, you can visit our main washing machines and clothes dryer pages to learn more about these durable and affordable appliances.
Manufacturing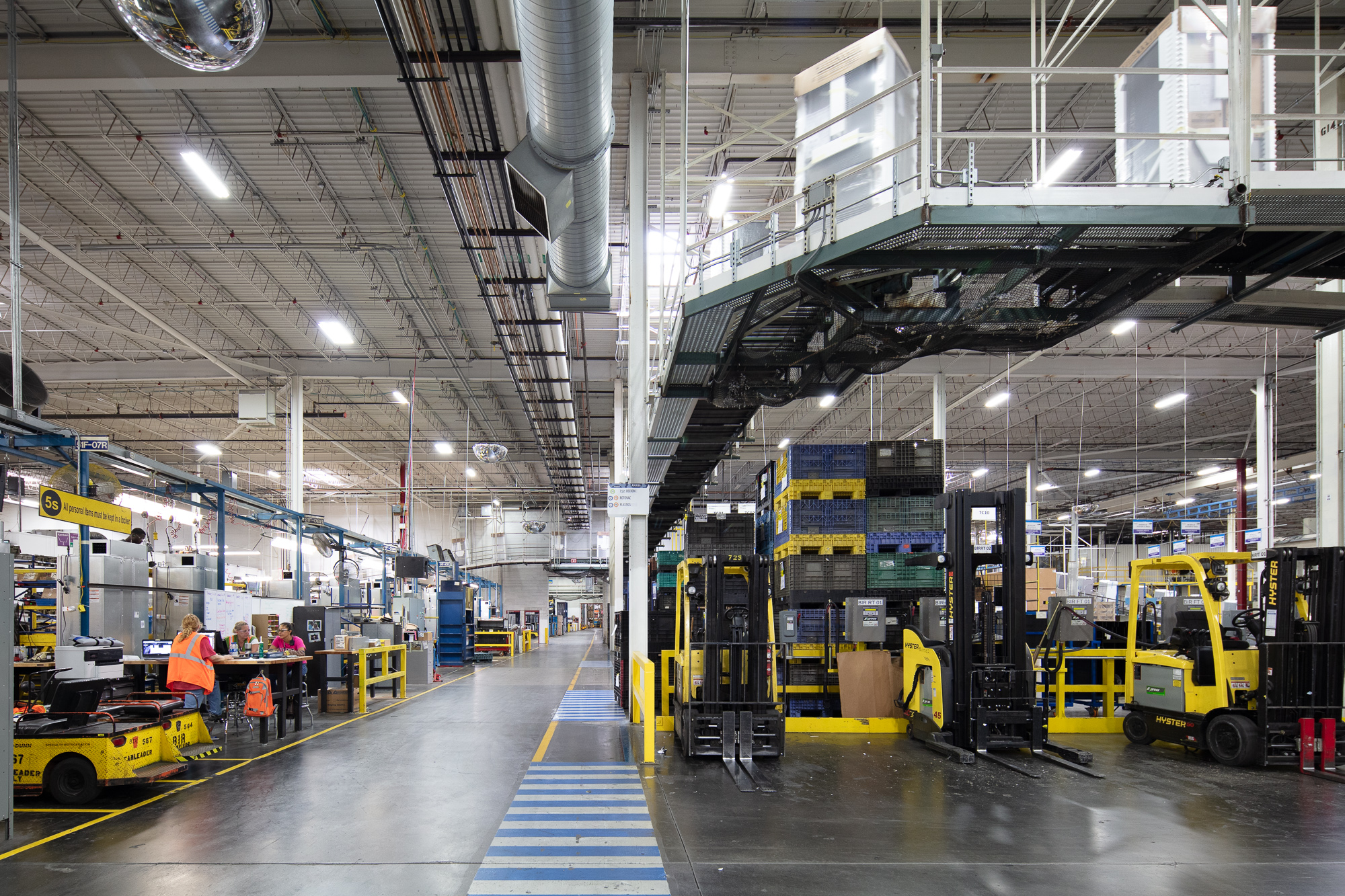 Amana washers and dryers are still made in an Iowa factory the company built in 1940, but many of the jobs that were performed by humans in the decades following World War II are now handled by robots. The facility's advanced machinery includes autonomous sleds that move refrigerators from one assembly point to the next and then tilt appliances to make it easier for workers to complete their tasks. This does not speed up production, but it does improve worker comfort, prevent mistakes and maintain quality.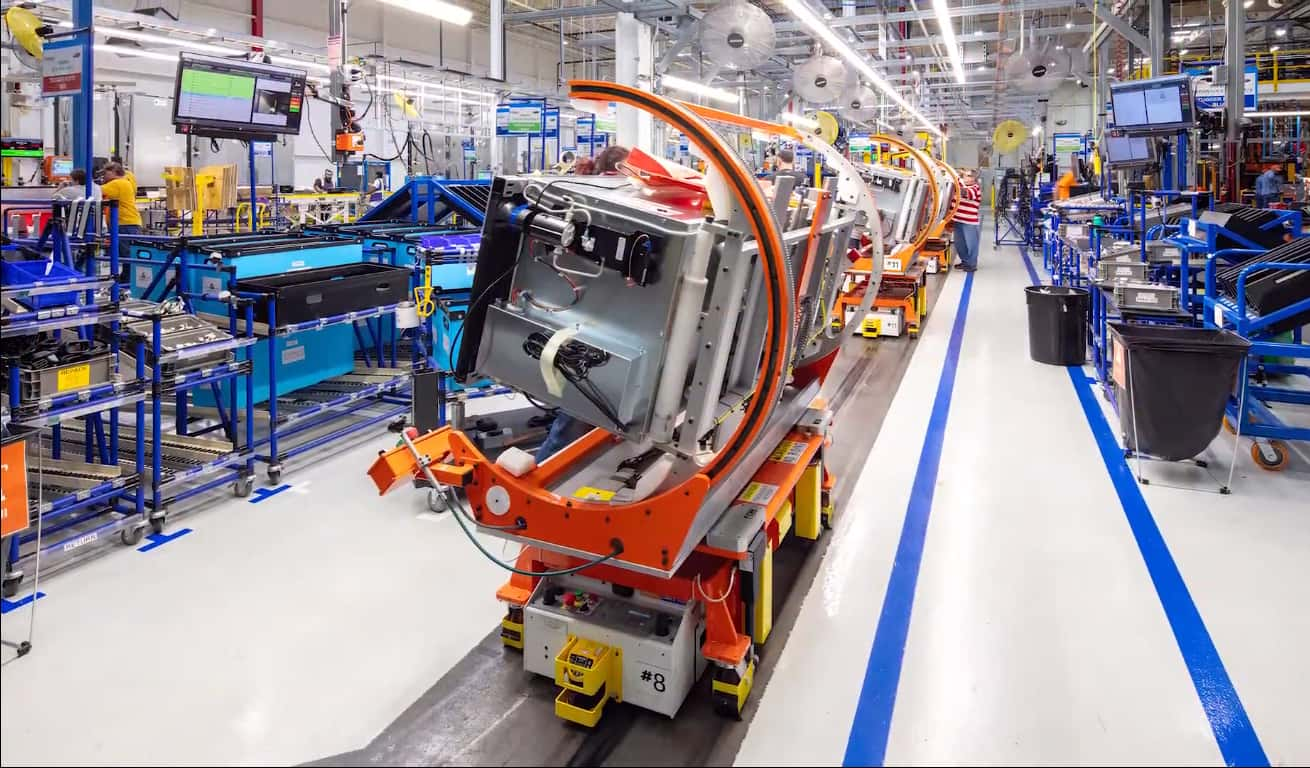 The factory that makes Amana washers and dryers also produces appliances for other Whirlpool brands. This means that Amana appliances are made in the same place and by the same people as washers and dryers that can cost up to two or even three times as much. They are also subjected to the same rigorous testing and must meet the same quality control standards. In the 1970s, the factory was upgraded with a new wastewater treatment system. Instead of building a system capable of handling only the plant's wastewater, Amana designed a system large enough to handle the needs of the entire community. That system is still in use today, and it is still making life easier for local residents.
Key Facts
George Foerstner was committed to the community he grew up in, and the company he founded has helped thousands of Iowans to escape poverty, attend college and realize their dreams. Foerstner established the "I" Club Scholarship Fund in 1952 to support the University of Iowa's athletic program, and he organized the Amana VIP Golf Tournament to raise money for the fund. Held each year at the Finkbine Golf Course, the pro-am tournament became a fixture on the golf calendar and attracted some of the game's biggest names.
Philanthropic endeavors like the golf tournament encouraged Amana distributors to establish a scholarship fund in Foerstner's honor. The fund was set up in 1974, and it has helped to pay the costs of college tuition for hundreds of the company's employees. This kind of community approach is rare in modern business, but it made Amana a perfect choice for Whirlpool.
Whirlpool is one of the world's most progressive manufacturers, and it has had an office of sustainability since 1969. Supply chain improvements and the adoption of renewable energy sources has helped Whirlpool to reduce its carbon footprint by 60% in recent years, and the company is committed to becoming a net-zero manufacturer by 2030.
Warranty Information
Amana washers and dryers are backed by a warranty that begins on the date of purchase and lasts for one year. During the warranty period, any problems caused by materials or manufacturing defects are repaired free of charge. If a repair is not considered prudent, the appliances will be replaced. All warranty repairs are made by authorized Whirlpool service providers using genuine factory parts, but damage caused by accidents or improper use is not covered.
Consumers who would prefer to have even more protection can purchase an extended service plan. Washer and dryer plans cost about $50 per year, so they can pay for themselves many times over if even one repair is needed. These plans have no deductibles and no hidden fees, and company representatives are available around the clock to schedule service calls.
Consumers who purchase Amana washers and dryers are covered by the warranty even if they do not register their appliances, but registration is advisable. Registering an appliance can be done online in just a few minutes, and it can shorten warranty claim processing times significantly.
Amana Appliance Parts
Consumers who need replacement parts for Amana washers and dryers can purchase them from an authorized Whirlpool dealer or buy them online. There is a parts link on the main website, and clicking it takes visitors to a dedicated https://www.amanaparts.com/ parts website. To find the right part, just select washer, dryer or washer/dryer combo from the "Laundry" dropdown menu and then select the appropriate model number from a list on the left side of the page.
All parts on the site are clearly marked with an item number and an OEM part number, and there are clear photographs and diagrams to make sure consumers know exactly what they are ordering. There are also wrench icons to let people know how difficult parts are to install. Part prices are displayed clearly, and bold text next to the price states whether or not the part is in stock and when it is likely to be shipped.
Check Out More Amana Content From WashersDryers360
If this brief look at Amana washers and dryers has left you wanting to know more, there is a lot more WashersDryers360 content for you to enjoy. We have reviews of all of the latest appliances to help you choose the washer or dryer that's right for you, and there are product roundups that provide an overview of a brand's entire lineup. We also have press release and recall pages that are a great place to catch up on important industry news.
Amana Washers and Dryers Reviews
If you are shopping for a new washer or dryer, WashersDryers360 reviews can help you to make smart decisions and avoid costly pitfalls. We go beyond marketing hype to find out what appliances really have to offer, and we summarize our findings with easy-to-read specification and comparison charts. We tell you how easy washers and dryers are to install and what they cost to run, and we take a look at online reviews to see what consumers have said about them.
Amana Washers and Dryers Roundups
WashersDryers360 product roundups are for people who want to learn more about a brand's model lineup. We select a few products that we think represent what the brand has to offer, and then we compile a series of short reviews that explain what makes each of these models stand out. There are comparison charts that show how appliances stack up against similar models, and our brief reviews finish with a bullet list of pros and cons. If you want to know how to choose the right washer, our product roundups can help.
Amana Press Releases
Appliance manufacturers issue press releases all the time, but important industry news does not always travel fast. That is why WashersDryers360 created press release pages for all of the major appliance manufacturers. These pages let you know about new model introductions and product revisions and improvements, and they also contain information about sales, rebates and customer loyalty incentives. If you want to save money on your next washer or dryer, check our press release pages before you buy.
Amana Recalls
Washers and dryers do not get recalled very often, but consumers deserve to know right away when dangerous defects are identified. That is why WashersDryers360 has recall pages that gather this important information. We let you know what kind of issue prompted the recall and what the manufacturer is doing to fix the problem, and we include model numbers and manufacturing dates to clear up any confusion.
Where to Buy
Looking for the best price on a new washer or dryer can be a frustrating experience, but WashersDryers360 makes finding a great deal easy. We can point you in the right direction because we watch retailers closely and know what they have in stock. We also keep track of their return policies and check to see what customers have said about their buying experience in online reviews. If you want to save money and be treated right, you should click on the following links:
Deals
Great deals are excellent, but outrageous deals are even better. Our deals section is the place to come to find out about special offers and discounts that are not widely available. When we enter into affiliate deals with retailers to save our visitors money, this is where you can find out about them.
Similar Brands
Amana washers and dryers offer great value and are packed with convenient features, but they are not the only choice for consumers who are looking for affordable quality. If you would like to broaden your search to include appliances made by other manufacturers, WashersDryers360 can help with product reviews and roundups. The brands we cover include:
Online Presence
Whirlpool is a Fortune 500 company, so it goes without saying that all of its brands have comprehensive websites and are active on social media. If you want to research Amana and its products a little more thoroughly, here are some links that you might find useful:
Contact Information
The Amana website provides its visitors with several contact options. There is a blue live chat link at the top of each page, and there is an online form on the Contact Us page that can be used to ask questions or make comments. If you would prefer to speak to a company representative on the phone, you can call 866-616-2664 on weekdays between 8 a.m. and 8 p.m.