Why Choose GE?
General Electric has been one of America's most important companies for more than 100 years. GE was originally formed to bring electricity to suburban and rural communities in the late 19th century, but the company has since grown to become a global colossus. Today's GE manufactures everything from locomotives to advanced aerospace guidance systems, and it generates about a third of the world's electricity.
GE also makes some of the most sophisticated and technically advanced washers and dryers on the market. GE is often the first manufacturer to offer clever new features because it has a vast research and development budget and access to some of the world's most capable engineers and scientists, and the company's dedication to innovation and problem solving ensures that these resources are used wisely. GE washers and dryers are extremely popular because they are well built and offer features that cannot be found in other appliances, and they are backed by a global network of development centers and manufacturing facilities run by one of the world's most respected manufacturers.
History
The people who formed General Electric were visionaries and entrepreneurs, and the spirit of innovation they brought to the table allowed their new company to expand its horizons and pursue new opportunities. GE products are used today to explore space, deliver state-of-the-art medical care and generate power in some of the world's most remote areas, and they can also be found in millions of American kitchens and laundry rooms. Let's take a look at the story of GE and examine its long list of appliance milestones.
Founding and Milestones
Thomas Edison is primarily known today as a prolific inventor, but he was also a shrewd businessman who made the most of his Wall Street connections. In 1892, Edison used those connections to secure the funds he needed to merge his New York-based Edison General Electric Company with the Massachusetts-based Thompson-Houston Electric Company. The newly formed company was called General Electric, and its first president was the former Thompson-Houston CEO, Charles Coffin.
General Electric was formed at a time when companies all over the United States were working on ways to deliver electricity safely and reliably. GE had a distinct advantage in this race because Edison was a genius, and one of Coffin's first acts as president was establishing the industry's most advanced research facility. That facility is still being used today, and so are GE's first two plants in Schenectady, New York, and Lynn, Massachusetts.
GE has grown to become a global leader in the aviation, power generation, and additive manufacturing sectors, and its products can be found in just about every advanced laboratory and research center. The radio guidance systems NASA astronauts relied on during Apollo missions were made by GE, and so are the engines on many current Boeing and Airbus airliners. A list of GE's milestones and breakthroughs would fill an encyclopedia, so let's just look at the ways the company has revolutionized the appliance industry.
GE first entered the domestic appliance market in 1925 when it unveiled the first hermetically sealed home refrigerator. The company followed up this breakthrough in 1927 with the first monitor top refrigerator and the first direct-drive dishwasher. That would be a century's worth of innovation for most companies, but GE was just getting started. Here are just a few of the things that those early ideas gave rise to:
The electric cooktop: The round Calrod electric heating elements that turn orange when they heat up were introduced by GE in 1928.
The automatic washer: Early electric washing machines had to be monitored closely as only certain functions were automated. GE made laundry day a lot easier in 1947 when it introduced the first fully automatic washer.
Dedicated manufacturing: GE thrives in so many industries because it gives all of its divisions the tools they need to succeed. In 1950, the company broke ground on a facility in Louisville, Kentucky, that became known as Appliance Park. In addition to a mammoth manufacturing complex that makes GE washers, dryers, stoves, and refrigerators, the Kentucky facility has a large research and development center.
Automatic dryers: In 1956, GE introduced the first domestic dryer that stops automatically when clothes are dry.
High-efficiency washers: High-efficiency washing machines that use less water are becoming increasingly popular because they lower energy bills, but they are not a new idea. GE unveiled the first high-efficiency washer in 1962. It had a mini-basket feature that used a lot less water and washed small loads in record time.
Smart appliances: GE was the first company to introduce appliances that could communicate with each other. The Harmony Clothes Care System, which was introduced by GE in 2003, featured a washer and dryer that worked together to improve results.
Stain stations: Some top-of-the-line washers now have faucets that allow consumers to remove stains from laundry before the wash cycle starts. GE brought this feature to the market in 2017.
Production and Manufacturing
The GE washers and dryers you can find in appliance stores and on websites like those of Best Buy and The Home Depot are made in some of the most advanced factories on earth. These appliances boast features that would have been considered science fiction just a few short years ago, and they are built using some of the most advanced materials and equipment the world has to offer. Let's take a closer look at what goes into them and how they are made.
Products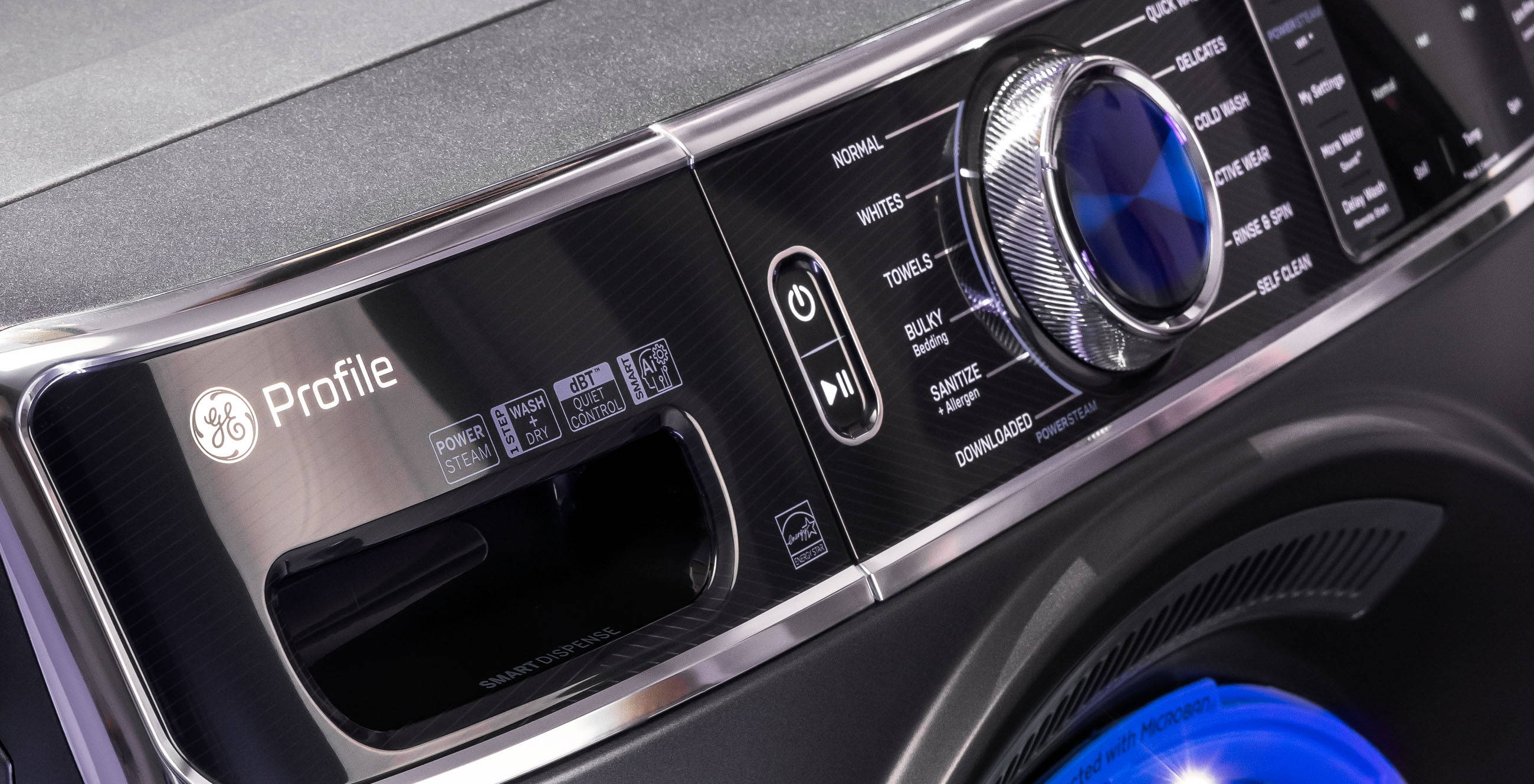 The current GE line of washers, dryers, and laundry accessories has something for every consumer. The company offers washers with capacities of up to 5.3 cubic feet to satisfy the needs of large families, and it also makes portable washers with capacities as small as 2.1 cubic feet for use in small apartments and motor homes. Here is a breakdown of the GE washer and dryer range:
Top-load washers: GE top load washers have technology that adapts the wash cycle to prevent tangles, tubs that have been engineered to make removing laundry easy, and convenience features like water stations and glass tops.
Front-load washers: If you are looking for an appliance that has every conceivable bell and whistle, a GE front load washer could be a good choice. Microban antimicrobial technology takes the elbow grease out of keeping these machines clean and fresh, and reversible doors make them easy to install.
Stackable washers: Consumers with a lot of laundry to clean but not much space to fit appliances can get all of the performance they want with GE stackable washers and dryers. These stackable models are packed with useful ideas and features, and they have all earned the Energy Star certification.
Dryers: GE electric dryers use moisture sensors to prevent overdrying, and some of them have a steam feature that keeps creases and wrinkles at bay. GE gas dryers have just as much functionality and are cheaper to run.
Laundry packages: If you want to keep things simple, GE can help you in two ways. There are GE washer dryer combos that are powerful and easy to install, and there are GE laundry packages of separate washers and dryers that have been engineered to work together.
GE also makes portable washers and dryers and laundry accessories like pedestals, pedestal drawers, and risers. No matter which GE appliance you check out, you are bound to find a long list of standard features. Technology that you could find particularly helpful includes:
Ultrafresh Vent System With OdorBlock: Front-loading washers can be difficult to keep fresh because the moisture that accumulates when their doors are closed provide a perfect breeding ground for bacteria. GE has solved this problem with a ventilation system that eliminates moisture and prevents odors.
Water station: You won't have to rush to a sink to take care of stains if you use a GE washer because these machines have a water station that allows you to tackle these problems using water or a mixture of water and detergent right inside the tub. You can even adjust the temperature of the water stream.
Innovative dispensers: Measuring out detergent is another chore that GE washers take care of automatically. The PODS dispenser has a water jet that is powerful enough to pierce detergent packs, and the SmartDispense system can hold enough detergent to clean 32 loads of laundry.
Steam sanitizing: Giving dried clothes an occasional tumble and puff of steam keeps them fresh, prevents wrinkles, and eliminates more than 99% of household bacteria.
Smart features with voice controls: GE has always been known for producing the most technologically sophisticated appliances on the market, and the company's latest washers and dryers keep this tradition going with smart features that allow them to be operated and diagnosed remotely. If you have a voice-enabled device, you can operate a GE dryer or washer just by talking to it.
If you would like to learn more about the advanced features of GE appliances, our main washers and dryers pages are packed with useful information.
Manufacturing
GE is able to introduce new features and technology with such regularity because its research, development, and production facilities are so advanced. The Appliance Park facility in Louisville, which dates back to the 1950s, is now GE's global appliance headquarters and largest manufacturing facility, and it makes most of the washers and dryers the company sells in the United States.
While some of the buildings in Appliance Park are more than half a century old, the manufacturing machinery inside them is state-of-the-art. By embracing emerging technologies like robotics, autonomous and semiautonomous production lines, and predictive maintenance analytics, GE has been able to speed up production while maintaining the highest quality control standards. The company now completes an appliance in less than five seconds and ships more than 28 million parts and accessories each year.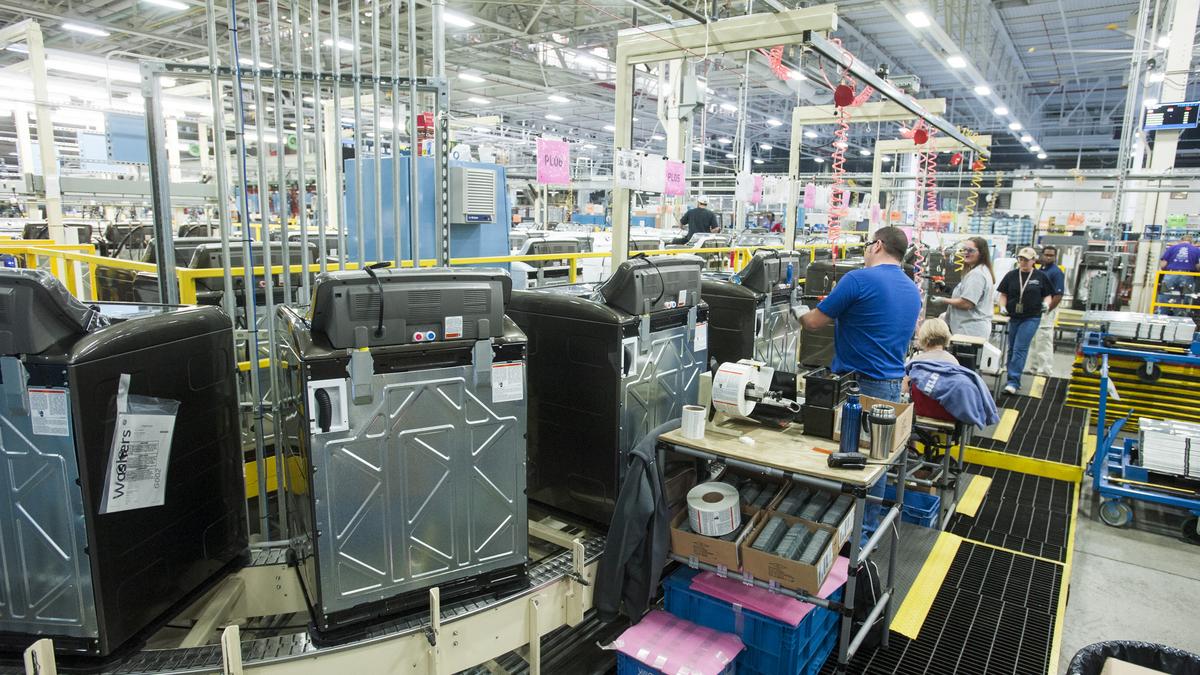 GE is committed to making appliances in the United States, and the company has nine production facilities in North America to make good on this promise. More than $660 million has been spent on renovating and improving these facilities since 2018, so they really are the last word in manufacturing sophistication. The Kentucky facility alone covers 750 acres and employs more than 7,000 people, and GE's other production and distribution centers are just as impressive.
Key Facts
One of the reasons why GE appliances are made so well is the attitude the company nurtures in all of its workers. GE understands that its success has largely been built on ideas, and it encourages all its workers to keep those ideas coming by valuing their voices and giving them a seat at the table. GE has been named as one of the best companies in America to work for by organizations including USA Today and A\50, and the Human Rights Campaign Foundation awarded the company a perfect 100% score in its 2021 Corporate Equality Index.
Companies with footprints that span countries and entire continents often take a keen interest in the communities they serve, and GE is no exception. The company has a Corporate Citizenship program that encourages workers to get involved by donating their time to local charitable organizations. In 2021, GE employees devoted more than 15,000 hours of their time to complete 75 projects in the United States. GE is also working hard to lower its carbon emissions and improve the environment, and renewable energy techniques the company pioneered to help the developing world are now being used to reduce emissions in facilities like Appliance Park.
Warranty Information
GE washers and dryers are normally backed by a one-year parts and labor warranty that covers consumers against defects and performance issues caused by faulty materials or workmanship, but some models have even more protection. GE Profile washers have warranties that cover parts like electronics control boards, motors, and suspension rods for five years instead of one. Tubs, transmissions, and drive pulleys are warranted for a full 10 years. GE Profile dryers also have warranties that protect customers for an extra year or two.
Consumers who purchase GE appliances are not required to register them in order to obtain warranty coverage, but they are encouraged to. Warranty claims are processed more quickly when appliances have been registered because much of the needed information is already in the system, and registration also ensures that consumers receive important safety and recall notices.
GE gives consumers peace of mind with a generous return policy. People who return GE appliances for any reason within seven days get a full refund with no pickup or restocking fees; the restocking fee is 25% when appliances are returned between eight and 30 days after purchase.
GE Appliance Parts
This is where you can find official GE parts for just about any GE appliance. Just place the model number of your appliance in the search box, and you will be able to find just about any part or accessory you need. Water lines, hoses, and seals are the parts ordered most frequently, but the GE parts site can also be used to order motor components, doors, and control modules. When you search for parts, large photographs and detailed diagrams will help you find what you are looking for.
Check Out More GE Content From WashersDryers360
This brand page contains a lot of interesting information about GE and its range of washers and dryers, and WashersDryers360 has a lot of other content that you could find just as useful. Our reviews and product roundups could help you to avoid a costly mistake, and our press release and recall pages have been designed to get you important information just as soon as it's released.
GE Washers/Dryers Reviews
Our product review pages are where you should head to if a washer or dryer has caught your eye and you want to find out if it's as good as people are saying. We get to the bottom of thorny questions like this with detailed specifications, a thorough rundown of features and benefits, plus an easy-to-read table that compares an appliance's dimensions and technology with those of similar models. Once we have all of the technical matters well and truly covered, we finish our reviews by analyzing what consumers have been saying online and summarizing the appliance's advantages and disadvantages with a pros and cons list.
GE Washers/Dryers Roundups
You should visit our product roundup pages when you are interested in a particular manufacturer but have yet to settle on a specific machine. Our roundups take popular models from the same manufacturer and compare them based on features, performance, and value. A $500 washer looks very similar to a $1,500 washer at first glance, so our roundups go deep inside the cabinet to tell you exactly what that extra $1,000 buys you.
GE Press Releases
Things change quickly in the appliance business, so consumers who want to find the best deals have to base their decisions on the latest information. Our press release pages have been designed to gather all of this information in one place. This is where you can find out about new products and improvements made to products already on sale, along with information about rebates and promotions. If you hate buyer's remorse, you should visit our press release pages before you click "Buy Now."
GE Recalls
Appliances are usually recalled when defects are identified that pose a threat to health or safety. This is obviously important information to have, and our recall pages make sure that you have it. When an appliance recall is announced, we let you know the important details right away. We tell you about the nature of the issue and the model numbers being recalled, and we provide details about the steps being taken to solve the problem and put things right.
Where to Buy
Finding the best deal on a washer or dryer can be almost as much work as choosing an appliance, but we may be able to point you in the right direction. We keep an eye on all of the major online retailers to see who is offering the best prices, and we only recommend companies that treat their customers right. If you are looking for a GE washer or dryer and want great service as well as a low price, check out these retailers:
Deals
Rebates and other incentives are often used to boost appliance sales, so waiting for a sale could really save you some money. If you want to know what kind of deals are currently being offered on GE washers and dryers, you can find out by clicking on these links:
Similar Brands
GE washers and dryers offer consumers just about everything they could wish for, but you may want to consider other options before you make up your mind. Other appliance brands covered by WashersDryers360 include:
Amana
Electrolux
Hotpoint
Samsung
Whirlpool
Online Presence
GE's appliance division has a comprehensive website that provides information about the various models available along with important customer support links, and the company also has a major presence on all of the leading social media platforms. Here are some links that you can use to learn more about GE and its appliances:
Contact Information
GE offers customers who have questions three contact options. Representatives are available to take phone calls between 8 a.m. and 8 p.m. Monday through Friday and from 8 a.m. to 7 p.m. on Saturday. Live chat support is available from 9 a.m. to 5 p.m. on weekdays. Here are the details: