Why Choose Miele?
Since 1899, family-owned Miele of Gütersloh, Ostwestfalen-Lippe, Germany, has produced quality domestic appliances. This production continues as part of their original strategic vision to be the "world's most trusted and desirable premium brand" of kitchen, laundry, and floor care machines. Because of the company's lengthy history, manufacturing excellence, warranties, and innovations, today's consumers trust Miele washers and dryers, in addition to the other appliances for which the family brand is known.
With a wide range of standard Miele washers and dryers to choose from — as well as Miele front load washers, Miele front load dryers, and Miele commercial dryer and washer models — the company's products have a reputation for standing the test of time. Whether you choose to buy Miele washers, Miele dryers, or a Miele washer dryer combo, you can expect years of service. The products also carry a comprehensive manufacturer's warranty, and the company provides helpful customer support. The brand's laundry appliances are renowned for focusing on energy efficiency and excellent washing and drying results.
History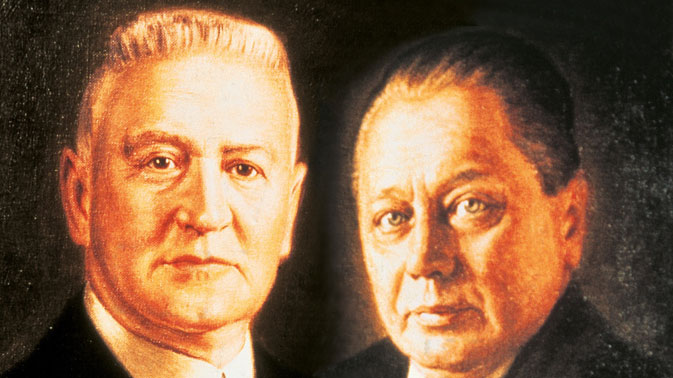 Miele is proud of its lengthy history. Here, we explore the company's track record of product innovations and manufacturing from the 19th century to the present day.
Founding and Milestones
Miele was founded in western Germany in 1899 by Carl Miele and Reinhard Zinkann. From the start, Miele led manufacturing while he coached Zinkann as an apprentice in product creation processes. At the same time, Zinkann filled his workdays by managing the company's sales and accounting.
Initially, the two men set out to specialize in the manufacturing of cream separators, butter churns, and washing machines. These were some of the most time-saving and innovative appliances of the Victorian era. Miele's original line was sold under the partners' Meteor brand.
From 1912 to 1914, the company expanded into manufacturing automobiles. Then, from 1924 to 1960, they added motorcycles, bicycles, and vacuum cleaners. During World War II, they diverted some of their manufacturing to the production of control units for German Navy torpedoes. Then, in the post-war era, the company realized its most lucrative niche was high-quality washers and dryers. They returned to a focus on those product roots along with kitchen and floor care lines.
In recent years, Miele has continued its history of innovation and adaptation to the times. These product evolutions have included manufacturing the space-saving Miele washer dryer combo. Other cutting-edge products introduced include the Miele front load washer, Miele front load dryer, Miele electric dryer, and the brand's TwinDos automatic dispensing detergent system. To meet medical and commercial bulk laundry needs, the company offers appliances like the Miele commercial dryer as part of the Miele Professional line.
Today, Miele is owned by the Miele and Zinkann families, just as it was upon its founding in 1899. More than 80 direct family successors are stakeholders in the modern organization.
Production and Manufacturing
Miele's brand philosophy starts with a commitment to its people, meaning customers, employees, suppliers, and owners. They also affirm an ongoing commitment to society as a whole as well as the environment.
Products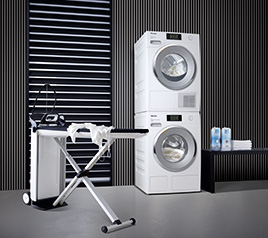 Miele does not manufacture only the Miele washers and dryers for which they are best known. Other products made by the premium appliance brand include:
Ovens, steam ovens and steam combination ovens
Microwaves
Vacuum drawers
Wall and island cooker hoods
Downdraft systems
Coffee machines
Refrigerators and freezers
Wine conditioning units
Dishwashers
Laundry detergents and dryer fragrances
Dishwasher detergents and machine care products
Appliance and cooking accessories
All Miele products fall into the categories of kitchen, floor care, and laundry.
Manufacturing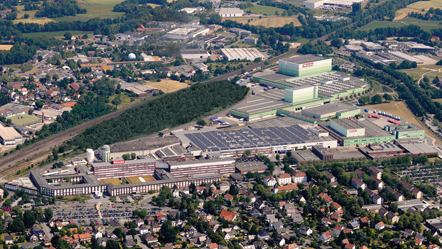 Unlike other manufacturers that source parts from around the world, Miele makes every part for each one of the brand's appliances. These components and all of the company's domestic and commercial units are designed and manufactured in their own plants in Germany, Switzerland, Austria, Romania, and the Czech Republic. This exceptional attention to detail also instills accountability for everything Miele makes. It is part of their customer commitment to ensuring that appliances like Miele washers and dryers last 20 years or longer. The brand's promise is "Immer Besser," which means "Forever Better."
Miele washers and dryers are manufactured in the company's Gütersloh factory in Germany. This plant has been in operation since 1907. It is the hub of production for all of the company's domestic and commercial laundry appliances, and it employs about 2,000 workers. Some parts utilized in this factory's production come from Miele plants in Uničov, the Czech Republic, and Ksawerów, Poland.
Key Facts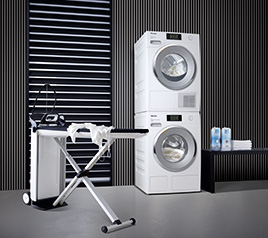 As an organization, Miele supports many local, national, and global sustainability initiatives. These include the initiative of the 2° Foundation and the international appeal of the We Mean Business Coalition. All these initiatives are explored in the company's annual sustainability report. Beyond sustainability, the company continuously wins design, manufacturing, and management awards. Their most recent recognition includes:
Reddot Product Design Award 2022
iF Product Design Award 2021
Focus Open Meta 2020 – W1 Classic GuideLine for blind and visually impaired people
Focus Open Gold 2020
iF product design GOLD award
Best Brands 2019 Hall of Fame
Superbrands 2018/19
Germany's Best Employer 2018
These awards are often for specific products, such as the 2022 Reddot Product Design Award for some of the company's high-quality washers and dryers.
Warranty Information
Miele has maintained its commitment to product excellence and customer satisfaction throughout its 120-year history. Part of this commitment is to manufacture appliances designed to last 20 years or more. Through quality assurance testing, the company puts its development units and individual parts through rigorous tests designed to "simulate average usage over a period of 20 years."
Along with testing to ensure Miele washers and dryers can last 20 years or more, the brand provides a one-year manufacturer warranty. They back their warranty with a fleet of field-based support professionals able to visit your home or commercial laundry location for service and repairs. Customers also have the option of investing in a five-year extended warranty for all Miele washers and dryers or other Miele appliances. These extended warranties cost between $209 and $549 per appliance. For domestic Miele washers, the 2022 extended warranty rate is $319. In 2022, domestic Miele dryers can carry the extended warranty for $279. Miele commercial dryers or other commercial laundry appliance coverage costs $349 in 2022 for these additional five years.
Miele Appliance Parts
Miele makes it easy for customers to locate and buy replacement parts for all the brand's appliances, including Miele washers and dryers. This is true whether your appliance is covered under the brand's one-year manufacturer's warranty, the extended five-year warranty, or no warranty at all.
Check Out More Miele Content From WashersDryers360
Miele Washers/Dryers Reviews
By reading users' reviews of Miele washers and dryers, you can gain a better understanding of which appliance best suits your needs. These reviews discuss the brand's high-quality washers and dryers and what to expect from owning them.
Miele Washers/Dryers Roundups
Checking out the key features of Miele washers and Miele dryers can help you make a sound buying decision. By viewing these recommended options for Miele washers and dryers, you can understand the differences between the brand's laundry appliance models and learn which features suit you most.
Miele Press Releases
Through the brand's press releases, you can learn more about Miele washers and dryers, including specific features like the TwinDos automatic dispensing detergent system.
Miele Recalls
It is important to stay up-to-date on Miele recalls and other product advisories if you own one of their laundry appliances or are in the market for Miele dryers and washers. Through recalls, you can learn why the product or part was recalled, the risks presented by the faulty item, and how you can resolve the issue.
Where to Buy
You can find Miele washers and dryers through online retailers like Amazon and The Home Depot. It is always best to buy your new high-quality washers and dryers from licensed retailers who are able to provide the support you need. Here are our top recommendations for where to buy Miele washers and dryers.
Amazon Miele Store
The Miele Store on Amazon offers the company's full range of domestic appliances.
Similar Brands
Although Miele stands out among high quality washers and dryers, you do have other good options for your new laundry appliances. If you choose to not buy Miele washers and dryers, these are other brands to trust:
Amana
Electrolux
Hotpoint
Samsung
Whirlpool
Online Presence
Miele takes pride in ensuring customer satisfaction. Part of that effort lies in maintaining convenient points of contact and information for the brand's consumers. If you want to learn more about Miele the company, Miele washers and dryers, or any of the kitchen, laundry, and floor care products the brand makes, consider checking out their online presence.
Contact Information
As a company and manufacturer of the full line of Miele washers and dryers, Miele is dedicated to providing the highest quality of customer support. To meet these customer service goals, they provide multiple ways to get in touch with them. The best method varies according to your issue at hand.
With so many options for contacting Miele, it is easy to see that quality customer support is a priority for the company.