Why Choose Bosch?
Though Bosch might not be quite as well-known as some other washer and dryer brands, it's very respectable. The company tends to have a reputation for well-made, long-lasting, efficient models. Unfortunately, all this quality comes at a cost. Often, Bosch washers and dryers are a little pricier than other brands. Are they worth the extra money?
Most people pick Bosch because they want a quality washer and dryer that will run reliably for years to come. There are several reasons that Bosch has such a reputation for excellent products. The company has years of experience producing home appliances and an excellent manufacturing facility. Exploring their past provides some valuable insight into why their washers and dryers are so excellent.
History
Bosch washers and dryers are a subsidiary of the Robert Bosch GmbH company. This multinational technology and engineering company is a German business with a very long history. The company was originally founded by Robert Bosch in 1886. Bosch was from a family of farmers, but as a young boy, teachers noticed his intelligence. His love of education helped him get an apprenticeship with a mechanic. This background later inspired him to open his own mechanical and engineering business.
Bosch initially worked with automobiles. Consumers were just starting to use cars in Germany, and he wanted to make automobiles easier to use. The company created a low voltage magneto for gas engines and supplied a variety of ignition systems. Over the next few decades, Bosch produced a variety of car, tractor, and truck parts. The company's innovation was halted due to Germany's participation in the two world wars. Though Robert Bosch supported the resistance against Adolf Hitler, his company was responsible for producing armaments and employed forced laborers.
Following the war, Bosch's company worked hard to make reparations. Robert Bosch passed away and left his vast fortune to charity. His will specified that he wanted the company to continue operating on behalf of several charitable organizations. In modern times, the Bosch company is run by a charitable institution. All profits from their washers and dryers go to support charitable projects ranging from literary grants to healthcare treatments.
Once the wars ended, Bosch decided to move away from producing cars and military equipment. The company instead shifted to focus on industrial items and consumer goods. In the '30s, they had previously produced a few small refrigerators and other appliances. The company was able to reassess these plans and start inventing new appliances.
In 1958, the company released its first washing machine series. The Bosch washing machine was one of the first to automatically wash, spin, and rinse clothing. They then continued to innovate over the next few decades. In the '70s, Bosch produced the very first combination washer dryer with a nonstop mode. Their washing machines and dryers focused on being convenient for users. Unlike other products at the time, they didn't require you to monitor your laundry and shift around loads of clothes.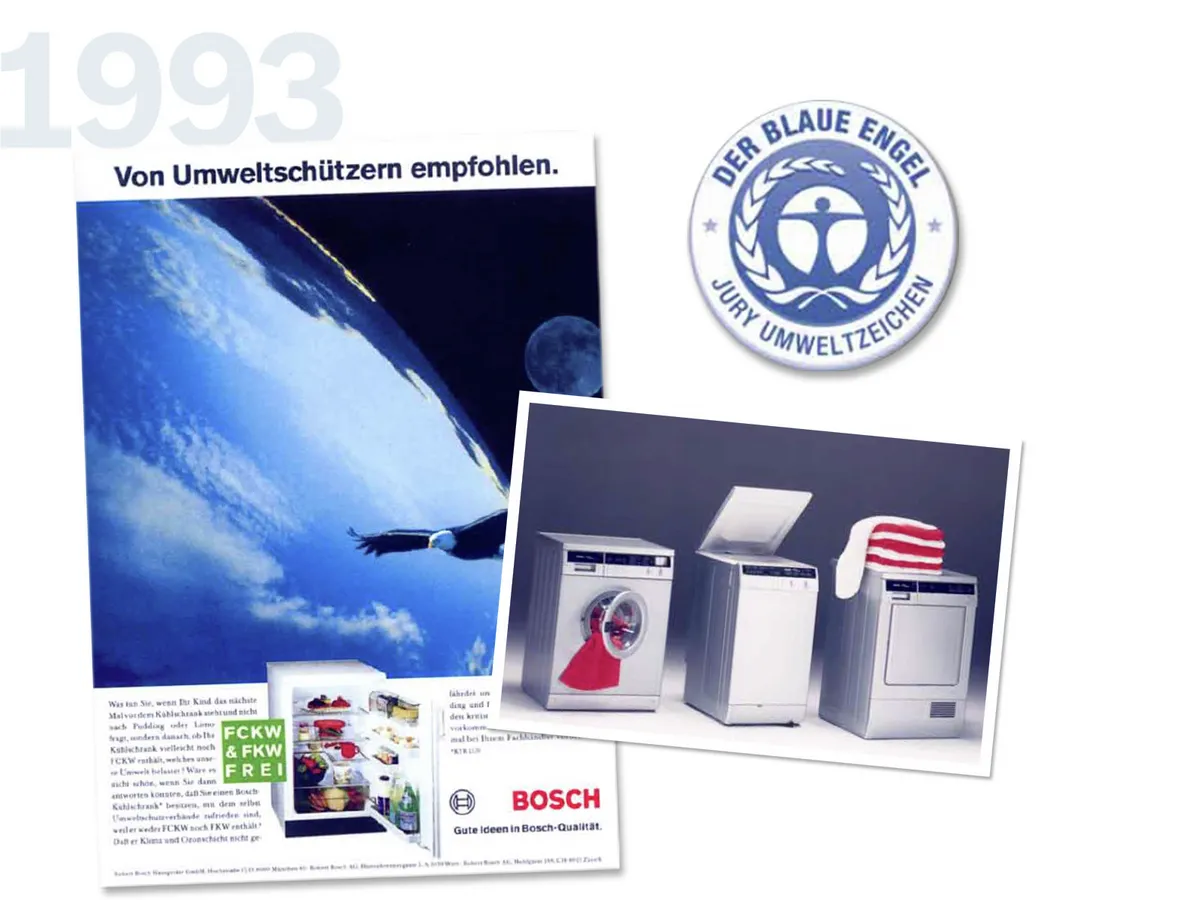 Until the '90s, Bosch was mostly just a German company. However, they were becoming more popular, so they began expanding internationally. Their first products sold overseas were mostly refrigerators. Once more and more people began to realize the high quality of the brand's products, demand quickly increased. Bosch started producing more washers and dryers for its international audience.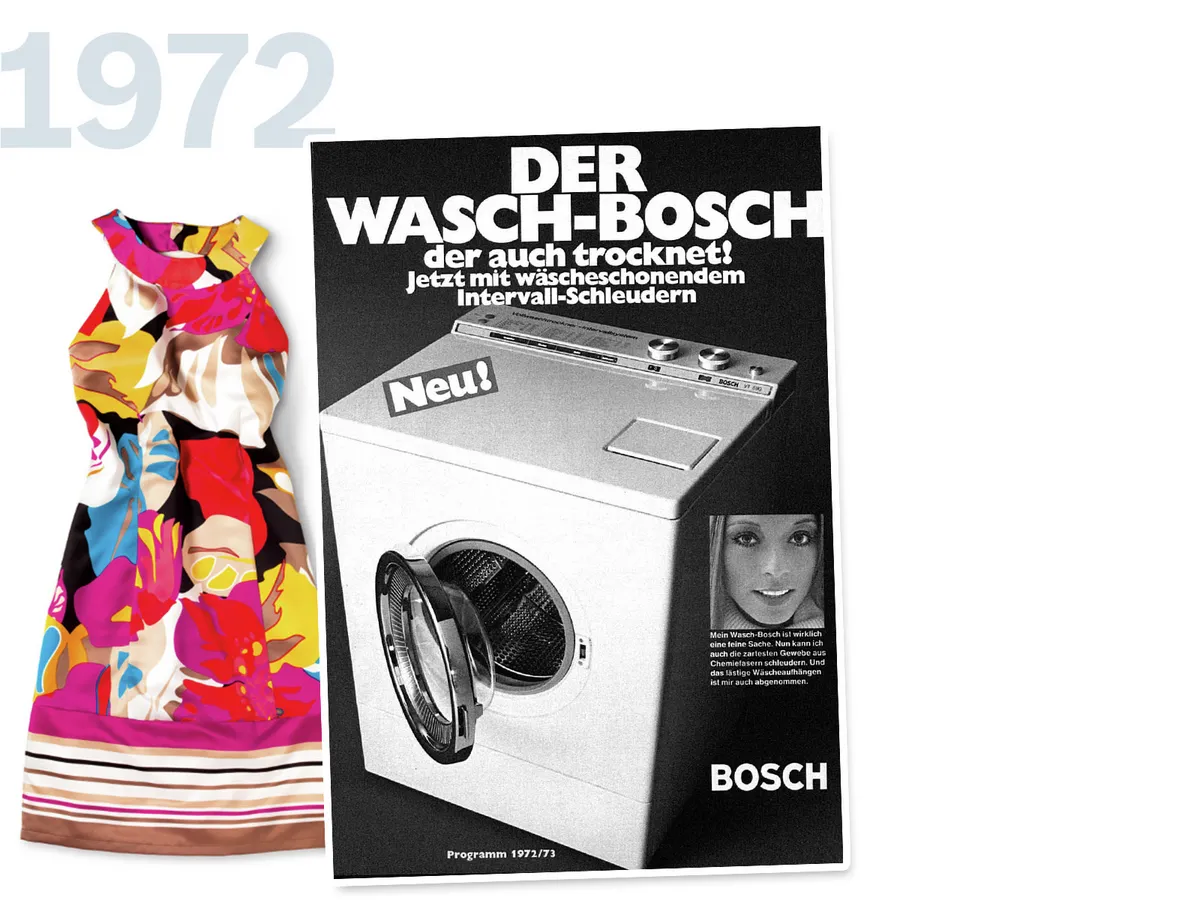 In the last 10 years alone, Bosch's company has drastically expanded. They've gone from being a little-known foreign brand to a household name. Their brand reputation emphasizes that they add German efficiency and precision engineering to household appliances. Since many people are tired of flimsy appliances that quickly break, Bosch is starting to appeal to many consumers.
Founding and Milestones
Bosch has gone through a lot of changes over the years. Check out these important dates in the company's history.
1886: Robert Bosch starts his engineering company in a backyard in Stuttgart-West. He originally planned to just make car parts.
1901: Bosch opens their very first factory to produce the company's ignition systems and spark plugs.
1917: The Bosch company officially becomes a corporation.
1933: After years of focusing on cars, Bosch turns to home appliances. They release an electric refrigerator.
1942: Robert Bosch dies and writes a will leaving his company to charity.
1958: Bosch starts the production of their very first washing machine.
1964: Bosch is officially restructured as a Stiftung, a type of charitable foundation.
1968: Bosch founds a new development headquarters. They plan to expand the type of designs they manufacture.
1972: The company releases the world's very first automatic washer dryer combo.
1991: Bosch decides to start producing products for the American market.
2006: The business opens factories in the U.S. to produce home appliances.
2016: Bosch unveils Home Connect, a system that lets you connect all your Bosch smart appliances.
Production and Manufacturing
Bosch's production and manufacturing are huge selling points. The company puts a lot of time and money into designing products that are efficient and durable. Here are some interesting things to know about the Bosch production and manufacturing process.
Products
The company has plenty of great designs to choose from. Both Bosch front-load washers and Bosch top-load washers are available. Bosch sells several combinations of washers and dryers. If desired, you can get stand-alone Bosch washers or Bosch dryers. However, they also sell several combination sets. There are larger ones that sit side by side, and there are also ones that stack on each other. Bosch stacked washers and dryers are compact models ideal for closets and other tight spaces. The company also sells single units that both wash and dry your clothing.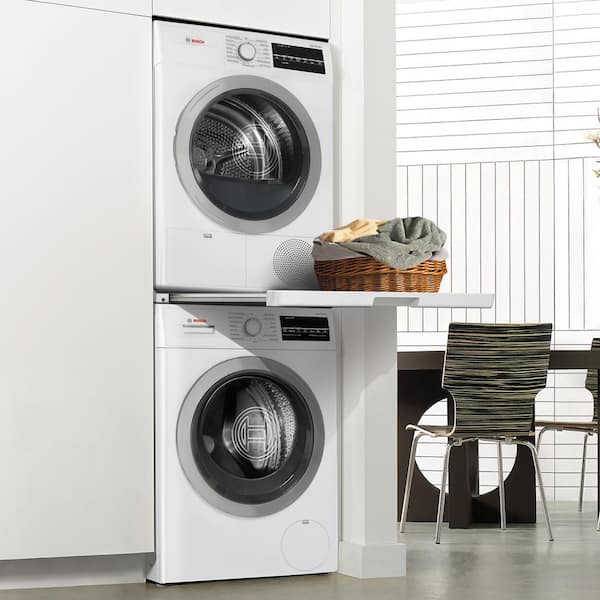 Bosch dryers come with many power methods. The company makes a broad range of electric dryers. Some are traditional electric dryers while others use a very efficient heat pump motor. In addition to Bosch electric dryers, the business also designs gas dryers. Bosch gas dryers are often less expensive to run, but they do require your home to have a gas line.
Whatever design you get, Bosch products often come with many helpful features, including:
Home Connect: This feature lets you connect your washer and dryer to Wi-Fi. You can control your appliances through a convenient app.
AquaShield: Bosch's AquaShield hoses and valves help prevent messy leaks.
SpeedPerfect: Washers with this feature wash clothing up to 40% faster than regular.
EasyStart: This feature recommends the best setting for your clothes. You can just push a single button instead of messing around with various washing modes and lengths.
ActiveWater: ActiveWater technology analyzes each load and determines the best amount of water to use.
EcoSilence: This special drive uses magnets to run the machine. It's quieter and more energy-efficient.
Wrinkle Block: This dryer setting can reduce creasing for up to two hours after the dryer quits running.
QuickDry Auto: You can use QuickDry to get your clothes dry in just a short amount of time.
AllergyPlus: The AllergyPlus setting helps remove allergens and get your clothes cleaner.
Manufacturing
Bosch is involved directly in manufacturing their washers and dryers. Unlike some other companies, they don't really contract work to other factories. They even produce individual components themselves. They have a few different manufacturing plants they use for their washers and dryers. Often, newer or more innovative designs are developed at the main plant in Germany. Developing products in Germany allows the Bosch team to work together on some very unique designs. Bosch's tried-and-tested products are often moved to other sites for routine manufacturing.
Their American base is located in New Bern, North Carolina. This factory employs hundreds of workers and is a very popular workplace. The factory recently became the first Craven County company to get a Carolina Star Program certification. This certification means that the Bosch facility meets rigorous health and safety standards.
Key Facts
Bosch has very ambitious manufacturing goals. The company aims to sustainably manufacture home appliances. They plan to adjust manufacturing techniques to avoid waste and byproduct production. Since 2020, the Bosch Group has been carbon-neutral, and they have plans to further reduce waste in manufacturing.
The company also aims to be eco-friendly by producing high-efficiency products that use less energy. Almost all Bosch products have ENERGY STAR certification. They use some unusual components that greatly reduce the amount of energy needed to run a washer or dryer. Bosch's heat pump dryer technology has been receiving a lot of attention lately. Since it reduces energy by up to 60%, it was awarded the ENERGY STAR Most Efficient mark in 2021.
Warranty Information
Bosch is so confident in its products that they offer lengthy warranties for all washers and dryers. If your equipment breaks due to a manufacturing defect, Bosch will repair or replace the item for free. The entire appliance has a one-year warranty. Certain parts of the appliances, like the motors and microprocessors, have a warranty of two years. The warranty is only void if you use the machine incorrectly or install it without professional help.
Bosch Appliance Parts
If something goes wrong, you can quickly fix the machine instead of having to replace it. The company makes it easy to find compatible parts for your washer or dryer. Their website includes a parts finder for customers to use. All you have to do is enter your model number, and Bosch will display all compatible parts. You also have the option of searching by part number if you know exactly what part you need.
Check Out More Bosch Content From WashersDryers360
If you're interested in finding out more about Bosch, we're here to help. Check out these great resources.
Bosch Washers/Dryers Reviews
If you're thinking about buying a Bosch washer and dryer, take a quick look at our reviews. We research popular models and provide you with in-depth details about the product.
Bosch Washers/Dryers Roundups
Explore our product roundups to see which Bosch washers and dryers are the best.
Bosch Press Releases
Interested in staying up to date on Bosch company news? Explore these press releases to find out the latest information.
Bosch Recalls
Though rare, Bosch does occasionally need to recall a product or part. Check our recall list to see which Bosch washers and dryers have issues.
Where To Buy
When you're buying a Bosch washer and dryer, you can choose from several stores. Bosch sells their products directly on its website. They also sell their washers and dryers through several retailers. You can visit the Amazon Bosch store page or the Abt Bosch Store page to explore their different products.
Similar Brands
If Bosch doesn't offer exactly what you're looking for, you do have some other options. Most brands don't have Bosch technology like heat pumps. However, there are many other similarly sized models. Here are a few other popular washer and dryer manufacturers to consider.
Online Presence
There are plenty of helpful ways to learn more about Bosch products. You can browse the Bosch website to find out details about their company. If you're interested in updates on Bosch products, explore their Facebook or Twitter page. The company also has social media profiles on YouTube, Instagram, and Pinterest. These can all be great ways to catch up on Bosch news or learn more about their washer and dryer selections.
Contact Information
There are several ways to get in touch with Bosch. You can reach them by texting "SUPPORT" to 21432. Another helpful option is the Bosch customer support center. This site has answers to FAQs, user manuals, and how-to videos.